News
Masterol Foods Launches Valley Pride Shortening Range
16 September 2013
Non-palm and low sat-fat shortenings are now available from Masterol Foods. Our new range offers distinct advantages to food manufacturers interested in reducing levels of saturated fat and total fat while maintaining the quality and style their products are known for.
Designed with simplicity in mind, Valley Pride fluid shortenings focus on innovations which assist the food manufacturer in meeting calls for high quality bakery products and at the same time, enable streamlined manufacturing processes.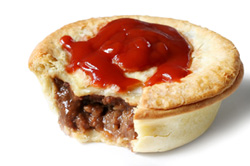 The new range includes shortenings which are suitable for use in a wide variety of bakery products:
• VegeLite for pastry and biscuits
• MaxiVol for cakes and muffins
• DohFresh for bread and rolls
• WonderWhip for mock cream and icing
• Products for shortcrust and flaky pastry coming soon

Traditional margarines and shortenings have changed little over time – the main development over the past 20 years has been the move away from trans fats to address concerns about their contribution to heart disease.
With an eye on the future, Masterol Foods has ditched the status quo and designed a range of shortenings which are a key component in satisfying emerging consumer demands for lower fat, full flavour bakery products.
Valley Pride fluid shortenings are easy to handle because no cutting or weighing is required. In high volume operations, product can be pumped and metered. Fluid shortenings also reduce waste because they can be supplied in 1000 litre tanks.
For the food technologist, fluid shortenings are easy to incorporate into existing formulations. They can also help to reduce product development times because the complex issue of emulsifier selection is already taken care of.
Valley Pride fluid shortenings assist in the design of products which feature simplified ingredient declarations and fewer E numbers on packaging, contributing to the positioning of your product as a more natural alternative.
Bakery products made with Valley Pride shortenings feature a traditional flavour and texture combined with lower levels of saturated fat and total fat – an outcome which is sure to make your products stand out from the crowd.